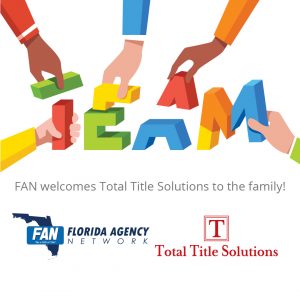 Florida Agency Network (FAN) expands into key Florida markets! Today, April 15, marks the first day of a new merger between Total Title Solutions (TTS) and FAN.
"As a team, we are excited about the services and products that FAN has to offer. We all believe that the TTS way is already above and beyond the standards of the Title Industry," says Angie Haddon, Chief Operating Officer of TTS. "However, the merger with FAN will make a superior experience! Anyone involved in the real estate transaction will continue to be in GREAT hands."
FAN will take control of TTS' operations.  Angie Haddon will become a Division Manager for FAN, while Lisa Jahr will be promoted to Regional Manager and will oversee offices throughout the Tampa Bay Area. The merger will bring 27 new team members to the FANily and grow FAN's geographical footprint by 5 additional offices, which include two in Pinellas, two in Pasco, and one in Hernando County.
"We are so excited to have TTS become part of FAN and continue to grow our footprint in the Tampa Bay Area. Abe, Angie, and the team have a like-minded culture to FAN, and we are grateful for the opportunity to service our clients together," stated Amy Gregory, President of Title Operations for FAN.