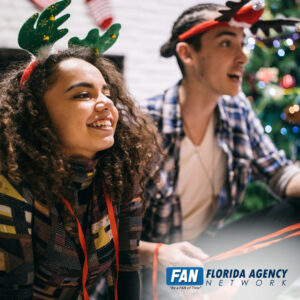 This time of year is full of joy and goodwill, and the time for a season of cheer is here. We want nothing more than to keep the party going, so don't let your guard down regarding the dangers of wire fraud.
This story is certainly no 'Twas the night before Christmas, but it's another example of the importance of remaining vigilant. Grinchy criminals are constantly evolving and will be even more innovative in the new year.
This time of year moves quickly, and more than just our transactions are getting targeted. Virtual meetings are being watched, and outside of the real estate industry, fraudsters have their eyes on our holiday shopping.
Criminals strike when we let our guard down. We must suit up (just like Santa) to keep our holiday spirit intact. So, we put together these reminders with a holiday twist based on one of our favorite Christmas movies…Christmas Vacation.
Preparation is key. Clark Griswold forgot the saw when he and his family trekked to cut down their Christmas tree. Be prepared by trusting industry professionals who can answer questions through experience and knowledge. They are the 'saw'.
Slow down. As the Griswold family rushes off for their holiday shopping, they leave Clark behind, and little do they know, he is trapped in the attic. Any notification received with a sense of urgency is a red flag. Call a trusted number for confirmation…not the number in the message.
Trust your gut. Everything turns out alright in the end for the Griswolds, but Clark should have gone with his gut and spent a quiet Christmas at home with his immediate family. If something feels wrong or seems out of place, it probably is. Make a call to someone who is trusted and knowledgeable.
Just like Christmas Vacation, we want everything to be just right in the end. So, we wish you Happy Holidays and hope your time with family is joyous, blessed and safe.