Take the FEAR out of FIRPTA

FIRPTA is an acronym for the FOREIGN INVESTMENT IN REAL PROPERTY ACT of 1980. We know FIRPTA sounds crazy, and it does have a bunch of rules. But the idea behind it is simple – when buying a house that is owned by a foreign party, the title company must withhold a portion of the sale to make sure they pay taxes and it's up to the BUYER to report the sale to the IRS!
Sounds complicated, we know… so here are 5 Facts to take the FEAR out of FIRPTA
FACT 1: WHO IS FIRPTA FOR?
The first thing to know is that FIRPTA only applies to buyers that are buying from a seller who is not a US Citizen/Resident Alien. There are several identifying factors for a foreign person or company, which the title company will discuss with the seller.  If the seller is a foreign person or company, then there may be a portion of the proceeds withheld from closing.  The seller will apply for a TIN number before the sale by filling out the W-7 application, if it's the first time selling a property in the US.
FACT 2: CAN THE SELLER BE EXEMPT?
Yes! If it is a home with a sales price under $300,000 and the buyer intends to occupy the new home as their primary residence for most of the year, over the next two year period of time, the property is entirely exempt from the withholding.  The buyer will be required to sign an agreement to confirm their intent to reside. This fact means for some people, FIRPTA never comes into play – but there's still some paperwork you'll need the parties to sign at closing.
FACT 3: HOW MUCH IS WITHHELD?
IF the sales price is over $300,000 to $1,000,000, the required withholding is 15% regardless if the buyers intends to occupy the property full time. There are some other rules that can make the withholding % increase or decrease, however, those are more rare.
FACT 4: What about a SHORT SALE?
Unfortunately for the seller, sometimes the sold home is worth less than the amount owed, but the FIRPTA requirements STILL come into play.
FACT 5: WE DO IT ALL FOR YOU!
The best part is when using ANY Florida Agency Network branded title company, we've got you covered when it comes to FIRPTA.  We will discuss what is needed, based on the particulars for the parties and transaction and also have CPA's that we can refer to, if needed.
To download more information about FIRPTA download our PDF here or call any of our locations.
Each year, the country is hit with hurricanes, tornadoes, hailstorms, super storms, flooding, and more. With hurricane season running from June 1st to November 30th, coastal and inland region homeowners must prepare for potential storms annually. Of course, you have insurance to help you recover. But knowing and doing a few things now—while the weather's fair—can help you and your family stay safe and help you protect your property if the unexpected happens:
• Stock up on important items such as canned goods, water, pet food, paper goods, flashlights & batteries with a battery-operated radio.
• Clean up around your property! Trim trees and shrubs, store outside items such as grills, boats, trailers securely – and yes storing the lawn furniture in the pool can work (if it's rust proof!)
• Be sure all important documents are stored in a waterproof safe, in the cloud, or in a secure portal online. These documents should include your Homeowners Insurance policy, survey, marriage license, wills, social security card, title policy, etc.
• Consider Flood Insurance, even if you are not in a flood zone. Be sure to purchase early – it can take 30+ days for the insurance company to finalize your policy. Take photos of the property, inside and out, prior to the storm.
What if you're involved in a real estate transaction during hurricane season? Consider signing contracts and binding your insurance earlier than normal, and know your closings options in case of evacuation. Our options include, but are not limited to, Remote Online Notarization (RON), Mobile Notary services at your location, or a Traditional Closing (in-person at the office).
We've created a downloadable PDF of our tips for you and your clients. For resources by county on flood and evacuation zones, visit www.floridadisaster.org/knowyourzone.
For more information reach out to your account executive or contact one of our locations: https://flagency.net/locations/
Recently, Aaron Davis had an article published on the ALTA website regarding the possibility of recent acquiring of title companies during a recent surge of mergers and acquisitions.
Below is a copy of the article, or ALTA members can read it here: https://bit.ly/34vg3h3
So You've Acquired a Title Business. Now What?
May 25, 2021 by Aaron Davis
It's been an active year for mergers and acquisitions (M&A) in the settlement services space, to the surprise of nearly no one. 2020 was a year of record order volume for the title industry, leaving many firms flush with cash. While 2021 has been a year of opportunity in a rising purchase market, many economists forecast an imminent decline in refinance transactions. Regardless of what we're currently seeing, it will be nearly impossible to repeat the historic spike seen last year. The likelihood is that 2021 will be very good—but not as good as 2020. Title agencies and settlement services firms will be forced to compete for market share.
This unusual turn sequence of events in the market has left many title companies facing some key strategic choices. More than a few, understanding that the market dynamic is shifting to one of increased competition, have plotted a course based on M&A: making strategic investments to increase their geographic and/or market footprints. Others, aware that, as good as 2021 may be, it won't be 2020, are looking to sell high or "cash in." It's the perfect environment for M&A activity.
For the title agent or owner seeking to grow, the due diligence and valuation process is critical to the success of the strategy. But often overlooked in the larger process is what comes after the contracts are signed. For many, the real work begins once multiple offices and firms become one in name. A lot of thought, work and, yes, capital will still have to be injected into the process of integrating the new entity and positioning it to operate efficiently and profitably. What follows are a few of the things some acquiring businesses don't always fully consider once they've received the proverbial keys to their new offices.
While the M&A due diligence process includes a pretty thorough review of the business being acquired, there are still aspects of the acquired business the new owner or owners may have to learn about after the ink on the contract has dried. The new owner is probably well aware of the production system being used and, if it's a title agency, the underwriters they work with. But many times, the acquiring agent or owner doesn't have a thorough understanding of the way that company does business at a granular level. For example, if the staff of an agency is used to handling the post-closing process for their own files, incorporating that title knowledgeable staff into a process-oriented business where the curative department only does curative while closers only do closings may be a challenge (although the thought of no longer having to handle post-closing might not be disagreeable to the new staff!). If the previous owner was an incredibly hands-on manager, a new owner who prefers to delegate or allow more freedom to a new staff could also, in some ways, provide a challenge as the two cultures blend.
Acquiring owners are likely very familiar with the geographical market or markets in which they operate their existing firms. But if the company and offices being acquired are outside of those familiar markets, those owners may need to rely on some of the professionals from the acquired companies as they acclimate to that new market. Anything from demographics or custom to, of course, regulatory differences can have a big impact on the way an acquiring firm does business day to day. It's advisable to have a plan (and a contingency plan) that will acclimate the new owner and key personnel unfamiliar with the new market to the unique characteristics of that market. It could save a surprising amount of time, energy and, of course, money, in the long run.
Acquiring owners may also believe they have performed adequate due diligence as to the technology and systems being inherited with the new offices. However, if the intention is to replace a production system with a different technology, those owners may be surprised by the need to keep at least one license for the system being replaced—and the cost. You see, existing clients will not care to again provide the sensitive data that will otherwise be lost in the archives of the old platform. Acquiring owners should plan to make a little investment in maintaining one license in order to have access to existing data for inherited customers.
In fact, one thing that seems to surprise a number of title business owners engaging in an M&A strategy is the investment required after the acquisition. The cost of training, tech integrations or outright replacement and even hiring or retraining often outpaces the conservative estimates of the acquiring owners. It's also highly advisable to dig deeply into the hidden costs associated with the business acquired. Little things such as long-term contracts with 3rd party service providers or even copier leases can become unexpected costs when the acquiring owner seeks to change the way the little things are done. Another fairly common surprise may be the requirements of a pre-existing IT services or hosting contract, which could delay software installations or a full-on integration of the company-wide network or, even worse, lead to invoices for services that aren't even being used.
Finally, there is the cost of time when integrating two office cultures. Acquiring owners should be prepared to spend time getting to know and understand the existing staff—unless they are planning the costly and time-consuming task of replacing them. It's human nature for the professionals in an acquired business to be anxious about their job security. Some may even proactively begin to seek new employment elsewhere. A major mistake made by acquiring owners is to assume those employees can be quickly replaced (or integrated) without impacting that office's production. The new owners who seem to have the smoothest integrations after acquisition are the ones who invest the time and resources into understanding—and being accessible to—the professionals associated with the acquired business.
Engaging in an M&A strategy is a proven means of successfully growing market share, which is imperative in a purchase market. But it's not a given that simply making the acquisition will double or triple a business' revenue and order volume. When insufficient planning and attention are given to the post-acquisition integration process, a merger or acquisition can have disastrous effects—right up to dragging the acquiring business itself into crisis. By taking the time and effort beforehand to carefully plot a post-acquisition strategy, the acquiring owner will be much more likely to reap the maximum benefits of the overall strategy.
Aaron Davis is chief executive officer of Florida Agency Network and AMD Enterprises.
Contact ALTA at 202-296-3671 or communications@alta.org.
Visibility is key in the real estate industry. Are you searching for a way to boost your visibility in mere minutes at zero cost to you? Check out Google My Business!
Google My Business is a free tool that will give your brand and reputation a rocket boost over your competition. We rely on Google's business listings to be a trusted source for business information and reviews. Why not use it as a marketing tool for yourself and be the first to come up in a Google search for business information and reviews? At no cost!
To begin the setup, here are few things you need to know:
Ask your brokerage their policy on setting up a Google Business Listing. Usually, they want you to add their brokerage name to the end of your name.
Ask if you can use your brokerage's office address.

If you are using your brokerage's address and they have a strong internet presence, they may overshadow you. OR, your brokerage may not want to be overshadowed by you, an individual realtor, since Google will only show one business in the map listing for the same address.
If you are using your home address, you will want to verify your business address and then, remove the address from the listing. To keep your listing visible locally, once you are verified, ensure your "Areas of Service" section of your business profile is filled out. You don't want people knowing where you live.

Once your address of choice is determined, follow the below steps to complete the setup:

Setup a Google Account or access your Google My Business login if you already have one.
Head to Google.com/business and click "Manage Now."
Enter your business name.
Enter the address. If you're a Service Area Business (you used your home address for verification purposes), you'll need to check the box at the bottom of this form. SAB's have two options here.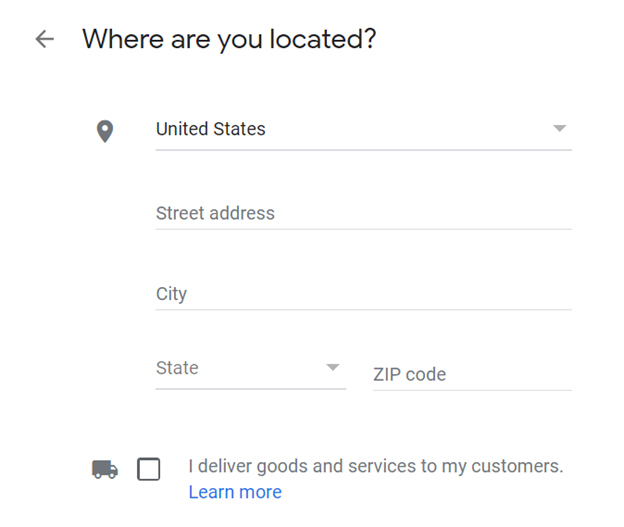 Option 1: If you can receive customers at your business address, enter your address here and click "Next."
Option 2: If you don't have premises where your customers can visit you, leave the address field BLANK. Check the box for "I deliver goods and services to my customers." Then, check the "Hide my address (it's not a store)" box that appears below

 Specify Service Areas.

Before you can choose your business category, you'll need to specify the areas you serve so that Google can accurately present your business for searches in those areas. Enter one or more regions, cities, or zip codes that your business serves.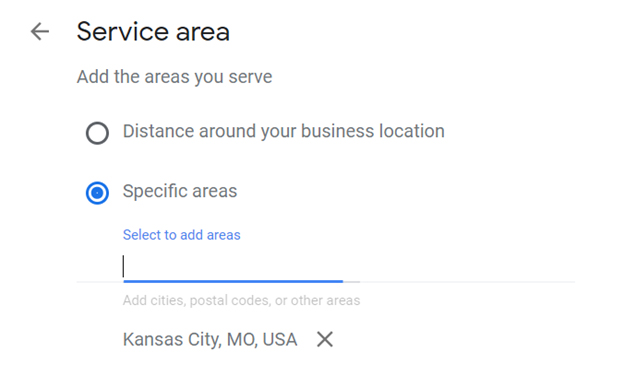 Choose your business category.

This is a very important field that will not only strongly influence what types of search terms Google will present you for, but it will also appear within your Google My Business profile that is visible to potential customers. You can adjust this later, but we recommend researching competitors and looking through a full list to find the most accurate category for your business.


Add a Contact Phone number and website URL.
Complete your Google My Business Verification

Google needs to be able to prove that your business is where you say it is and for new GMB profiles, you have three options:
Postcard Verification: This is the most used verification process. A verification postcard will be sent to the address you entered earlier and should reach you within five days. Once received, you will enter the code in your GMB account to verify the business.
Phone Verification: Some businesses have the option to verify their listing over the phone. You'll know if you're eligible if you see "Verify by phone" as an option at the beginning of the verification process. Using this method, you'll receive an automated message with verification code that you'll then enter into GMB.
Email Verification: Some businesses have this option. You'll know if you qualify if you see "Verify by email" as an option at the beginning of the verification process. This simple process sends a verification code to the inbox of the Google account associated with the GMB listing.
What's Next?
Now that you've officially verified your listing, it's time to optimize your Google My Business account by adding photos and videos, writing a compelling business description, encouraging your loyal customers to "Follow" you on Google Maps, and starting to request and manage your Google Reviews.
Have you updated your FANAgentOne app yet? If you haven't, its time to get moving! You're missing out on fast answers for your clients with market specific title fees, closing cost estimates in real time, and more.
Here are the new and exciting updates:
Comparing Multiple offers – Easily compare up to 12 offers from iBuyers, investors and traditional offers.
New HomeLink Feature– Simply add an address and HomeLink will pull the property tax information available for the property.
Video Lenses to Enhance Your Marketing – Take the promotion of your listings to another level with our new video feature.
But the best part... all of this in the palm of your hand!
NEW to FanAGENT One? Check out these videos to learn more:
You may have used our FANAgentOne app in the past, but with so many new feature that YOU'VE asked for - you have to take another look. Still not sure? Check out this PDF of the new features, or check out out by downloading the app at www.fanagentapp.com.
We all could use a little good news now and then, and for everyone closing with a Florida Agency Network we have some... good news!
Using Alanna AI, our state-of-the-art virtual closing assistant, realtors and their customers are automatically signed up for a series of "good news updates" during the process of their closing. Below are some of the notifications you can expect, as we do our part to give you good news!
Upon receiving your contract, you will receive a welcome text message with a link to the welcome package where we collect your contact data and any additional information for }the lifetime of your transaction. It can all be signed and submitted right from your phone.

Once the necessary title work has been completed - from lien searches to surveys – you will be updated to let you know that your title processor is reviewing all documents. Once all of the requirements have been cleared you will be update again.

At this point your tile work has been cleared and your title professionals are now working up closing figures and any remaining details you will need on closing day. You will receive more information very soon regarding your final figures and a closing date and time.
Your closing figures are out for your review! You will receive your preliminary figure breakdown, details on what to expect at closing, and if any remaining information needed to finalize your transaction. The link to your documents is included in this text message for your convenience.
You've reached closing day! With this update, you know your transaction has been closed and documents are being filed. You will receive a brief survey link to share your experience with us so we can continue to improve our processes. We aim to keep your experience personal, professional, and streamlined for all of our customers.
Your official documents have been filed in the appropriate county clerk's office and we have received confirmation of recording! You will now receive a copy of your title policy.
Our goal is to keep you informed automatically about the process of your closing. This way you are ready to take the steps for you and your customer while preparing and finalizing their transaction.
Of course, this also means we get to be the bearer of GOOD NEWS!
Be sure to download the PDF chart of automated good news updates and start chatting with Alanna AI today via text at 813-710-4126, by using the chat feature on our website, or by scanning the QR code below!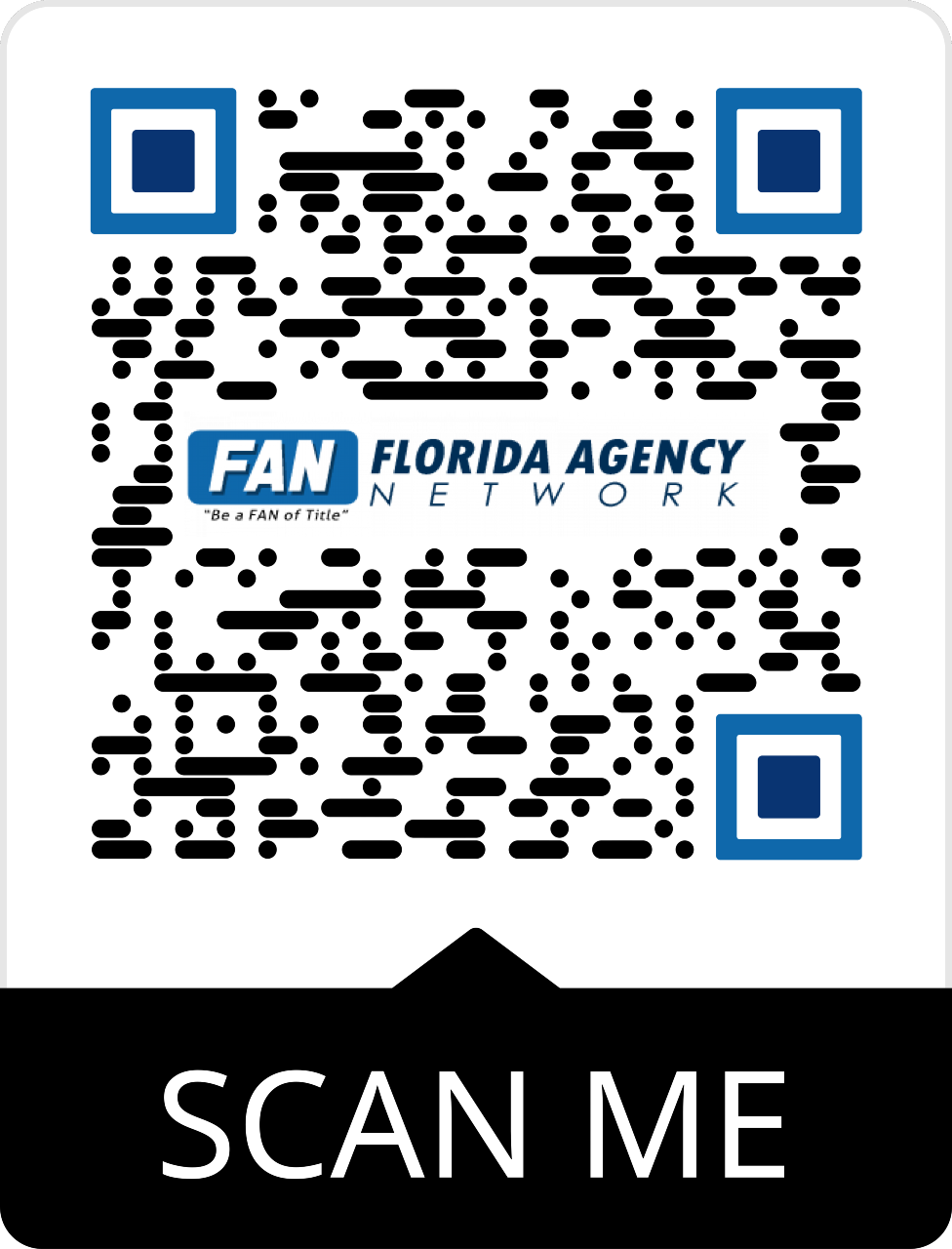 It's October, season of carving pumpkins and munching on candy corn. However, there's something lurking just around the corner or hiding in the front yard creeping up on your customer, and if your customers are not careful – these monsters can jump out and KILL YOUR NEXT DEAL!
To help ensure your customers don't unwittingly cast themselves as the victims in their own horror movie this season, check out the tips below on some of the biggest KILLERS of a real estate transaction!
Don't Spend Like a PSYCHO!
After signing the contract for their new home, but before closing, some customers just get into a spending mood! It may be tempting to use a new line of credit to fill the new house with furniture or purchase a shiny new SUV for the driveway, but these transactions can QUICKLY change your lender's opinion about your credit-worthiness and cause your deal to go down the drain!
Avoid the Home of FRANKENSTEIN.
Some homes look great on the outside and even through the buying process, only for the future homeowners to find out the home has not been properly upgraded throughout the years and is, instead, a mishmash of a lot of parts like Frankenstein's monster. That home may not pass inspection, and when that happens, the sale is gone. Don't let your buyers be sad. It's a good thing to keep their family safe from plumbing, foundation, or electrical issues... as Frankie says – FIRE BAD.
Steer Clear of the INVISIBLE ZOMBIE.
A surprisingly common issue when someone is selling their home is that their legal spouse has gone as invisible as Claude Raine. When people move away from each other without filing the correct legal documents, they may forget that technically BOTH parties still own the home, and there's been instances where the former spouse cannot be found in time – bringing the closing to a screeching halt.
Don't Let Liens Drain You Like DRACULA.
Imagine getting excited about your new home, only to find the solar panels that you thought were a nice addition come with a $20,000 lien on the property. Just like Dracula – that sucks! Make sure you ask your title company for a comprehensive title search so that these kinds of liens don't suck the life out of your customers' bank accounts!
As you can see, it may seem like there's danger lurking around every corner, but with a little bit of preparation - and choosing a title company backed with the power of Florida Agency Network - you can help your customers avoid turning their experience into a horror film!
To share this information with others, we have a downloadable PDF.
Happy Halloween!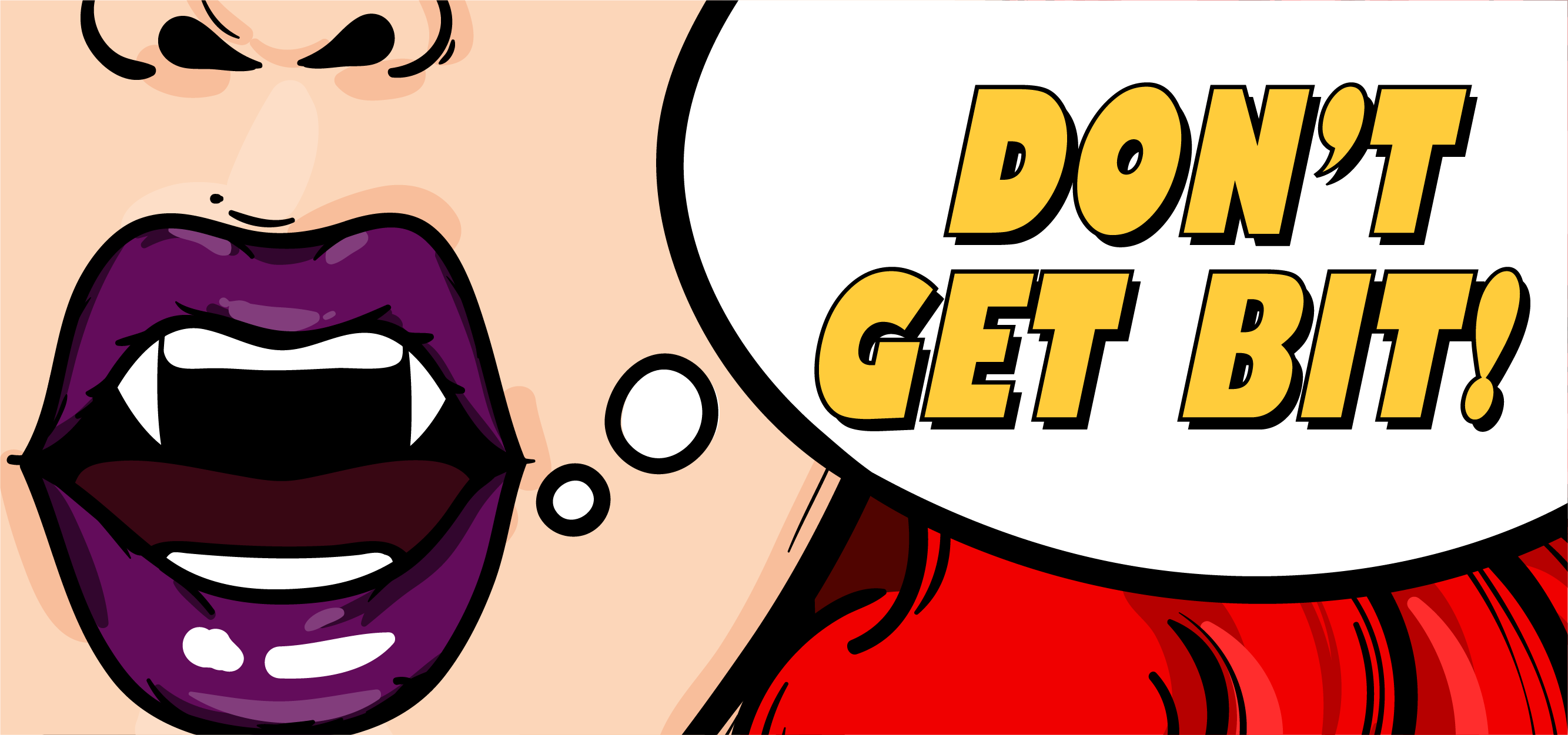 One side effect of the COVID crisis has been an increase in the use of online based video chat services like Zoom. Unfortunately, this also has created a new type of online cyber-criminal... the ZOOMPIRE!
This "vampire" isn't after your blood but, instead, specializes in sending fake zoom meetings to users to steal their personal data with specialized links used to fool the person into believing they've been invited to an online meeting.
Researchers at INKY say that these new attacks are even fooling some Secure Email Gateways (SEGs), making them harder to catch.
In addition, they can send a direct link, preventing your browser's fraud prevention, as well. "If the hacker includes a fake attachment, it leads to a fake login page that's locally hosted on the recipient's computer, not the internet," the researchers write.
The solution here may be a low tech one. By texting or calling to confirm any meetings you didn't set up yourself, you can be sure you're only joining meetings you're supposed to join - and prevent the ZOOMPIRE!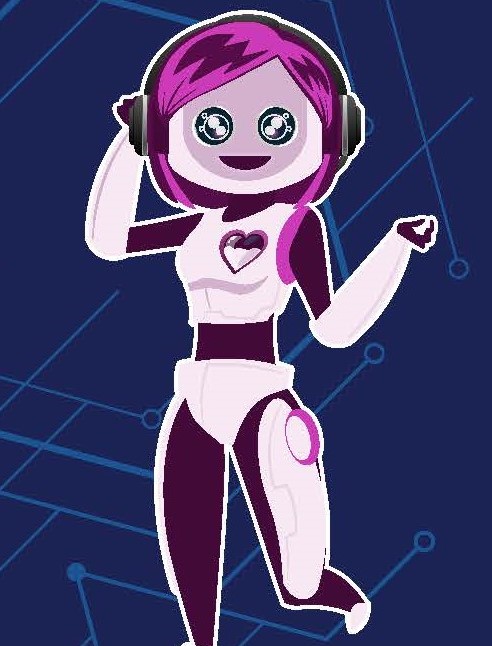 Florida Agency Network (FAN) launches "Alanna.ai", a new virtual closing assistant to further bolster FAN's customer closing experience. This free service provides immediate answers to closing transaction questions 24 hours a day, 7 days a week. Alanna.ai is composed of world class artificial intelligence that integrates seamlessly with FAN's title production software, , capable of providing dedicated and private responses to common questions related to closing transactions.
FAN's Chief Operating Officer, Mike LaRosa explains further: "In today's environment where the demand to provide multiple options for client communication continues to grow, we are excited to offer such a robust and intuitive solution. Alanna.ai offers the ability for text updates, both outbound from our live staff if they need to interject, and also triggered responses from Alanna.ai directly based on the particular query. Too often we found our staff either utilizing personal devices, or text features generated by our VOIP phone systems, and none of those correspondences would tie back into the closing software database, allowing us to properly capture and record all communication on a file. Alanna.ai was able to solve that problem for us through a cool, mobile solution that is simple to use."
FAN's commitment to constantly improving upon the customer experience drove the company to this partnership with Alanna.ai, the software company that is leading the industry in artificial intelligence- based communication for title companies by providing smart and "trainable" software that integrates with title insurance closing software platforms.
"Adopting a solution such as Alanna.ai was the next logical step in the progression. Automated workflows, portal solutions, Robotic Process Automation (RPA), and now an A.I. based solution to improve the consumer experience and operational efficiencies," stated Aaron M. Davis, CEO for FAN.
Alanna.ai's CEO, Randall Nelson stated, "We are thrilled that FAN launched Alanna.ai in Florida. We feel with FAN's industry experience and footprint, it will take Alanna to the next level, and we are already seeing benefits for Alanna.ai."